Yacht Devices Engine Gateway
11 June 2019 | Tom


Using the Yacht Devices Engine Gateway YDEG-04R to monitor real time engine date for Volvo Penta marine engines with the Raymarine MFD - these details have been reproduced courtesy of The Sealine Forum
I have been looking for some time at a lower cost solution to displaying engine data on my chartplotter.
So my most recent purchase was a Yacht Devices Engine Gateway YDEG-04R
Most modern Volvo Penta engines use some form of canbus data network (EVC) such as the D4, D6, D9 or D12 but this system also supports D1, D2 and KAD300, KAD44 engines.
The device acts as an interface between the engine canbus data network and the Seatalk NG / NMEA2000 network used by your chart plotter.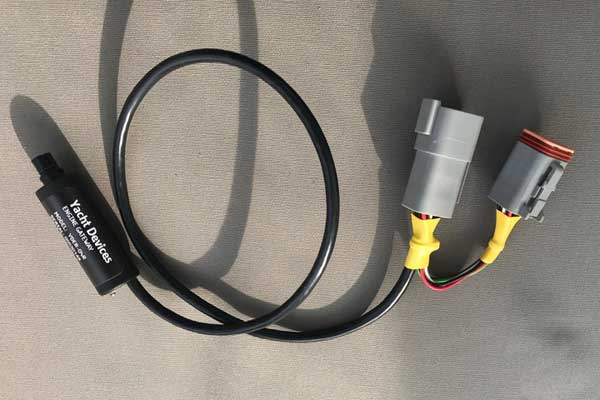 Very simple to install, the Engine Gateway can be simply plugged in to the back of one of your EVC rev counters if you have those fitted.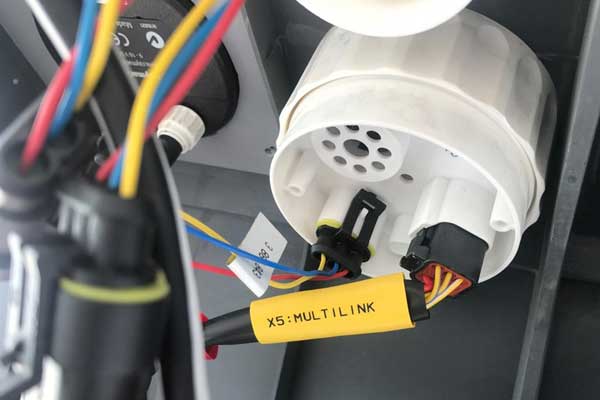 As you can see the device has a plug at one end to go into the standard Raymarine Seatalk NG white socket at one end and two Volvo Penta 6 pin connectors at the other end at act a s a T piece to the cable that goes in to the rev counter.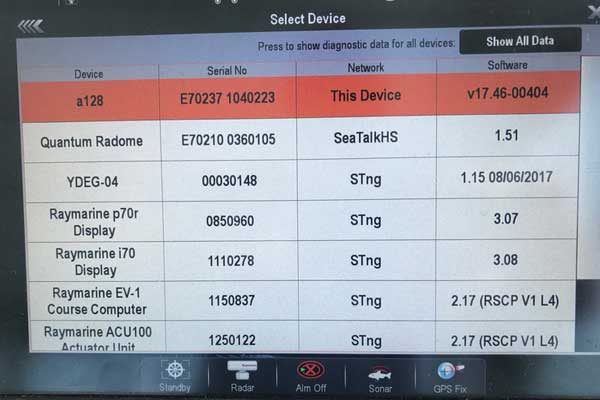 My Raymarine Multi-Function Display (MFD) has a screen that will show all the devices on the network and as you can seethe new interface is "seen" to be on the network.
The unit also has a Micro-SD card slot that can log network data for future analysis or problem diagnosis.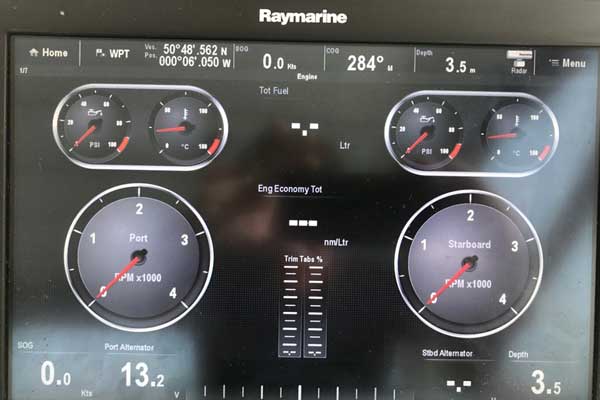 So using the engine data screen, we now get live dats including oil pressure, water temperature, revs, engine hours, battrey volts etc
Most of this data is available on the LCD screens of the EVC rev counters if you have them fitted but now you can have them all displayed nicely on one screen.
The Yacht Devices Engine Gateway costs £174.95 inc VAT and delivery and is available with either Raymarine Seatalk NG or NMEA 2000 Micro Male connectors.
Related Links
Yacht Devices YDEG-04R - with Raymarine STNG connector
Yacht Devices YDEG-04N - with NMEA 2000 Micro Male connector
The Sealine Forum (requires registration)
All yacht Devices products have a two year manufacturer warranty and on-line technical support for the lifetime of the product.
We stocks a wide range of Yacht Devices marine electronics products and can supply the entire product range to order.
For advice on marine electronics please contact our expert sales team on 0800 310 2100.